1993 Cadillac Fleetwood Brougham
Mis ikka öelda - 2 aastat sõidetud ja liigub küll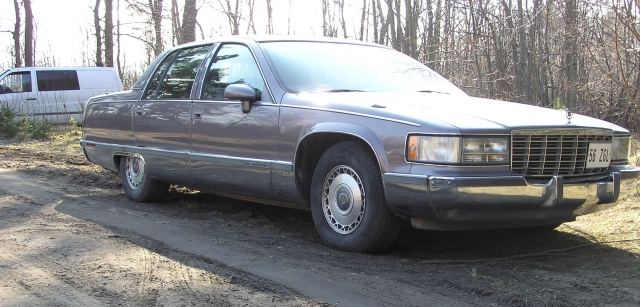 Infi ka tsiba:
1993 CADILLAC FLEETWOOD
* The overall length of America's longest regular production car increased 4.1 inches to 225.1 inches, and with that change Cadillac also renamed the former Brougham sedan, now called the Fleetwood.
* The wheelbase remained as before, 121.5 inches and even the Brougham moniker was retained for an upscale option package that could be ordered for the "base" Fleetwood sedan.
* The formerly standard 5.0-liter V-8 was discontinued, and the previously optional 5.7-liter V-8 was now the powerplant for the Fleetwood series. This V-8 featured a new starter motor that turned the engine more quickly and enhanced reliability. The 5.7-liter V-8 was rated at 185 horsepower and 300 pound-feet of torque. It was paired with the 4L60 Hydra-matic four-speed automatic transmission.
* The standard axle ratio for the Fleetwood was 2.56:1 while the Brougham's was 3.08:1.
* Bosch ASRIIU traction control was standard equipment.
* The 1993 Fleetwood sedan met mandated 1997 federal standards for dynamic side impact testing, and featured dual airbags as standard equipment.
* The exterior of the Fleetwood featured larger, flush-glass design windshield and back window.
* The front view was updated with a new grille integrated into the hood.
* One-piece front and rear bumpers were nickel-chrome-plated to match the new stainless steel bodyside molding, which featured the Fleetwood name in block letters in each front door molding.
* The rear of the Fleetwood had an all-new bumper system with a gray, grooved rub strip that extended around the entire perimeter of the car.
* Bright reveal moldings surrounded the side windows with Argent Metallic window trim. Bright wheel opening moldings also featured chrome-plated stainless steel treatment.
* Snap-in rear wheel opening skirts could be easily removed.
* New aerodynamic outside rearview mirrors and flush door handles matched the body color.
* Fleetwood's aerodynamic refinements dramatically lowered its coefficient of drag from a previous reading of 0.49 to 0.36.
* Both the Fleetwood and Brougham rode on 15-inch cast aluminum wheels fitted with Michelin XW4 P235/70R15 whitewall tires. Goodyear Eagle GA tires were required when the trailer towing package (rated at 7,000 pounds) was ordered. A full-size spare was optional equipment.
* Standard were a stainless steel exhaust system and plastic, 23-gallon fuel tank.
* Fleetwood offered 20.8 cubic feet of trunk space (up .2 cubic feet over 1992).
* Interior volume was 125.2 cubic feet.
* Inside, Fleetwood offered split frame seat construction with power seat recliners as standard items.
* New indicators to aid the driver included: door ajar, oil level, oil change, and low engine coolant.
* Other new features included Power Drain Protection (exclusive to Fleetwood), which protected the battery if lights were left on by automatically shutting off lights after 10 minutes of inactivity.
* Additionally, Retained Accessory Power allowed operation of window/windshield/entertainment controls for 10 minutes after the ignition was switched off.
* The Fleetwood Brougham package included a full vinyl top (which could be deleted), sail panel badging, specific seat design with six-way driver's seat memory and heated and three-position lumbar front seats, instrument panel badging and rear seat storage armrest.
* Other packages available for the Fleetwood included Coachbuilder Limousine with a 7,200 pound capacity, Heavy-Duty Livery, and Funeral Coach.
ENGINE
Feature Fleetwood
Type 90-degree. overhead valve V-8
Block & Head Cast iron block and cylinder heads
Displacement 350 cu . in. (5.7 liters)
Bore & Stroke 4.00 x 3.48 in.
Compression ratio 9.8:1
Brake horsepower 185 @ 3800 rpm
Torque 300 lb.-ft. @ 2400 rpm
Lifters Roller hydraulic valve lifters
Fuel Injection Throttle body fuel injecton,
CHASSIS
Wheelbase 121.5 in.
Overall Length 225.1 in.
Height 57.1 in.
Width 78.0 in.
Front Tread 61.7 in.
Rear Tread 60.7 in.
Standard Tires Michelin P235/70R15.
TECHNICAL
Transmission THM 4L60 four-speed automatic with overdrive (includes torque converter clutch).
Steering Power-assisted recirculating ball. speed sensitive, variable assist.
Front Suspension Independent with short/long arms, coil springs, direct acting shock absorbers and stabilizer bar
Rear Suspension Four link. coil springs w/automatic level control and direct acting shock absorbers and stabilizer bar.
Brakes Power assisted front disc/rear drum w/Teves anti-lock braking system Bosch II ABS
Body Construction Separate body on frame.
Fuel Tank 23.0 gals.
09.2007 - müüdud heasse peresse