Cadillac unveils sleek, all-electric ESCALADE IQ with a big battery, big range, and a price tag to match
09.08.23.
Manus: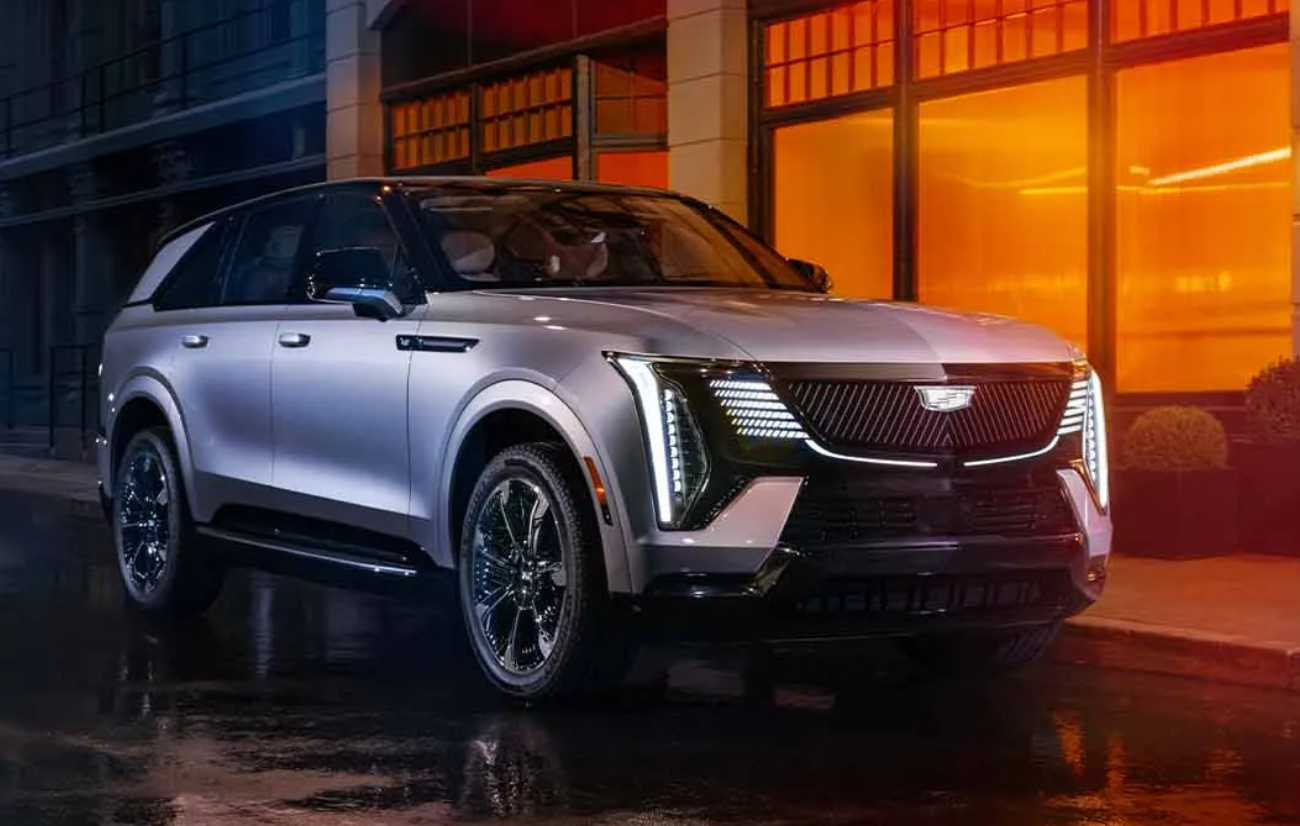 Screenshot 2023-08-09 at 22-57-21 Electric-Escalade-Hero.jpg (WEBP Image 1400 × 700 pixels) — Scaled (82%).png [ 1.3 MB | Vaadatud 23042 korda ]
GM luxury brand Cadillac publicly unveiled its upcoming, all-electric version of the Escalade in front of a crowd in New York this morning. The ESCALADE IQ is a far cry from the vehicle synonymous with music videos and transportation services the past 24 years, but in the best way. Cadillac has reimagined what is arguably its most iconic model for the all-electric age, and its engineering teams fingerprints are on every single square-inch. It's a true marvel in large EVs, but it comes at a hefty price tag.
It's been over a year since Cadillac originally announced it was developing an all-electric version of its long-running full-size SUV called the ESCALADE IQ. Aside from the new all-caps nomenclature and "IQ" suffix to match other Cadillac BEV models like the LYRIQ and CELESTIQ, all we really got from GM at the time was the name itself.
Earlier this week, Cadillac's parent company GM announced that all future BEV models on its Ultium platform will come equipped with bi-directional vehicle-to-home (V2H) capabilities, including the 2025 ESCALADE IQ which was mentioned specifically.
Today, we can confirm the new electric ESCALADE will offer V2H charging, as well as a slew of other new and exciting design and performance elements. Have a look.
Manus: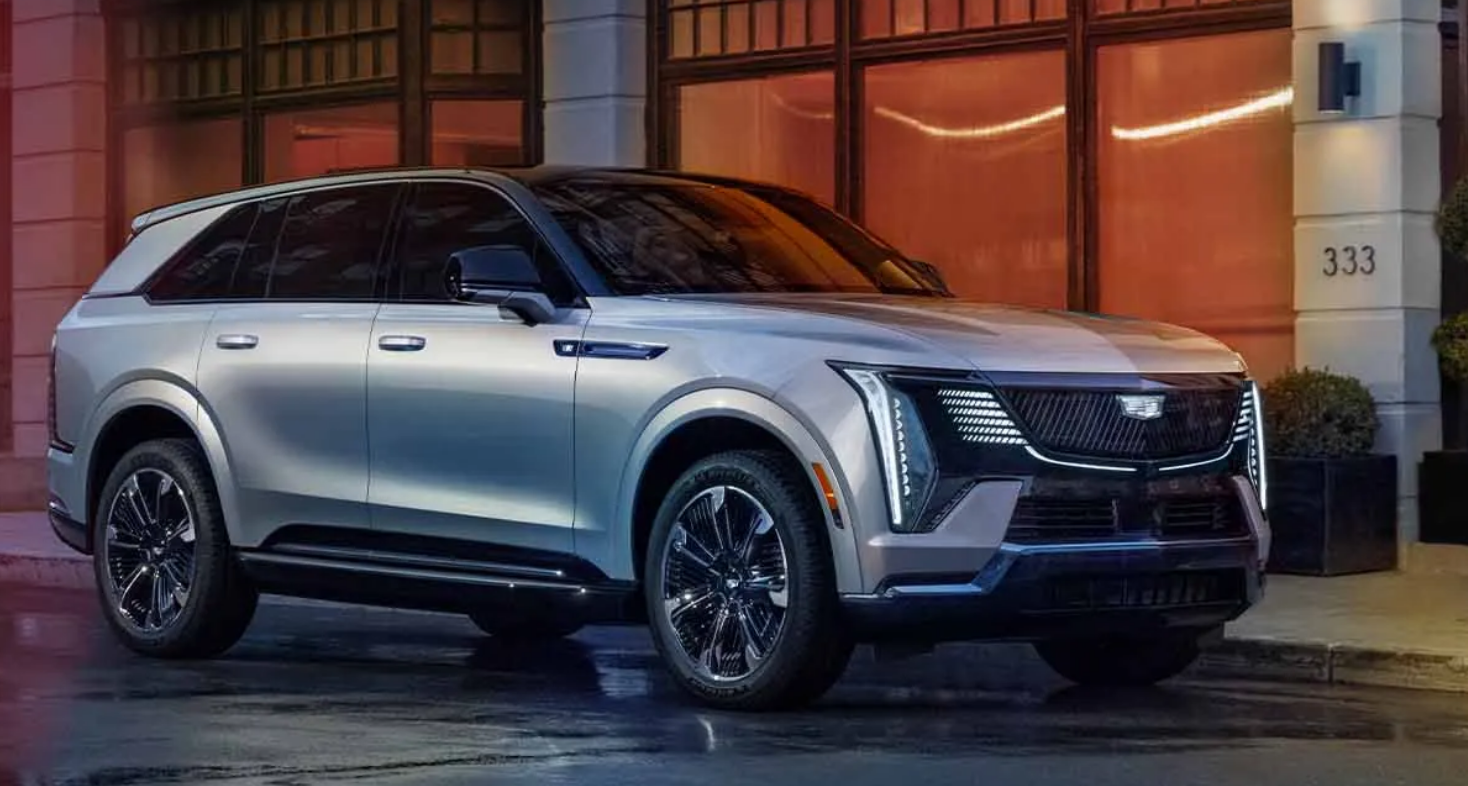 Screenshot 2023-08-09 at 22-57-55 Electric-Escalade-front.jpg (WEBP Image 1400 × 700 pixels) — Scaled (82%).png [ 1.43 MB | Vaadatud 23042 korda ]
First things first, let's start with the overall look of this new Escalade, reborn for the all electric age. Cadillac's designers told us the transition into a BEV gave the team the freedom of a blank slate approach, picking and choosing the most recognizable elements to the brand, while binning the unnecessary stuff… you know like a gas tank, engine, transmission, etc.
The result is a BEV that maintains the DNA of Cadillac's first large SUV, but sports a sleeker, streamlined look that offers the low ride and aerodynamics necessary for ample BEV range (more on that in a bit). In front of the audience in New York, GM President Mark Reuss was already touting the electric SUV as its best driving and most maneuverable Escalade to date.
As you may notice from the images above, Cadillac says it pushed the wheels further to the corners of the Ultium platform for a more planted stance, which also creates a longer wheelbase. The engineers also pushed the passenger compartment back 11 inches offering more room inside.
The hood has been stretched and the rear slanted to offer a new look for the relatively boxy Escalades's of old, once again contributing to its vital aerodynamics. Cadillac's engineers shared that they were able to reduce the drag coefficient of the ESCALADE IQ by 15% compared to its combustion predecessor. I sat down with the new electric SUV's Chief Engineer Mandi Damman and asked her what she is personally most proud of in the vehicle, which she described to me as her "third baby" behind her two actual children.
Manus: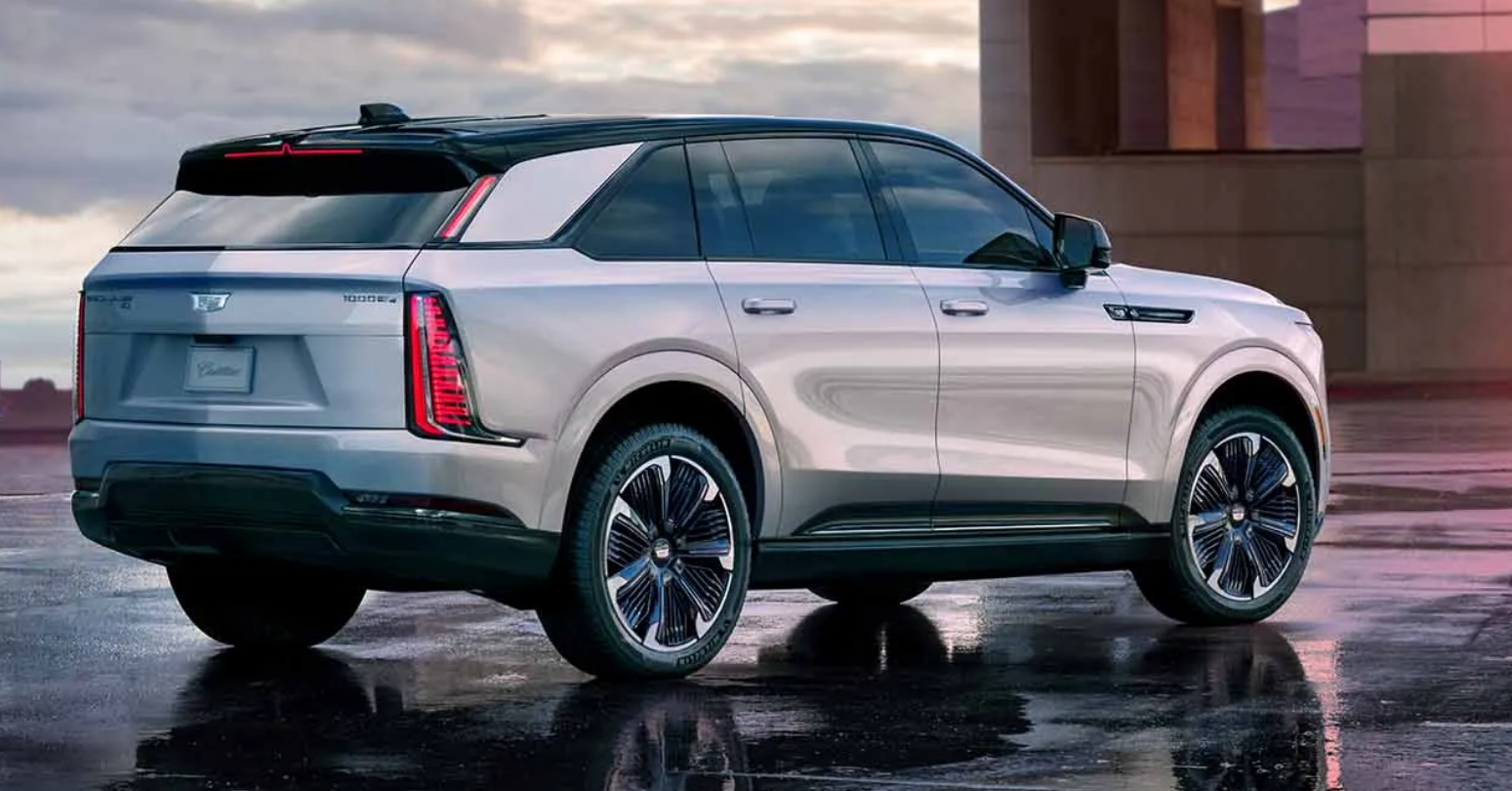 Screenshot 2023-08-09 at 22-58-13 Electric-Escalade-rear.jpg (WEBP Image 1400 × 700 pixels) — Scaled (82%).png [ 1.5 MB | Vaadatud 23042 korda ]
Next, let's peep the ESCALADE IQ's interior for a second. First thing you'll notice when you enter the cabin (and in the images above) is the pillar-to-pillar 55-inch diagonal LED display which is split between a 35-inch screen for the driver and a 20-inch screen for the front passenger.
Manus: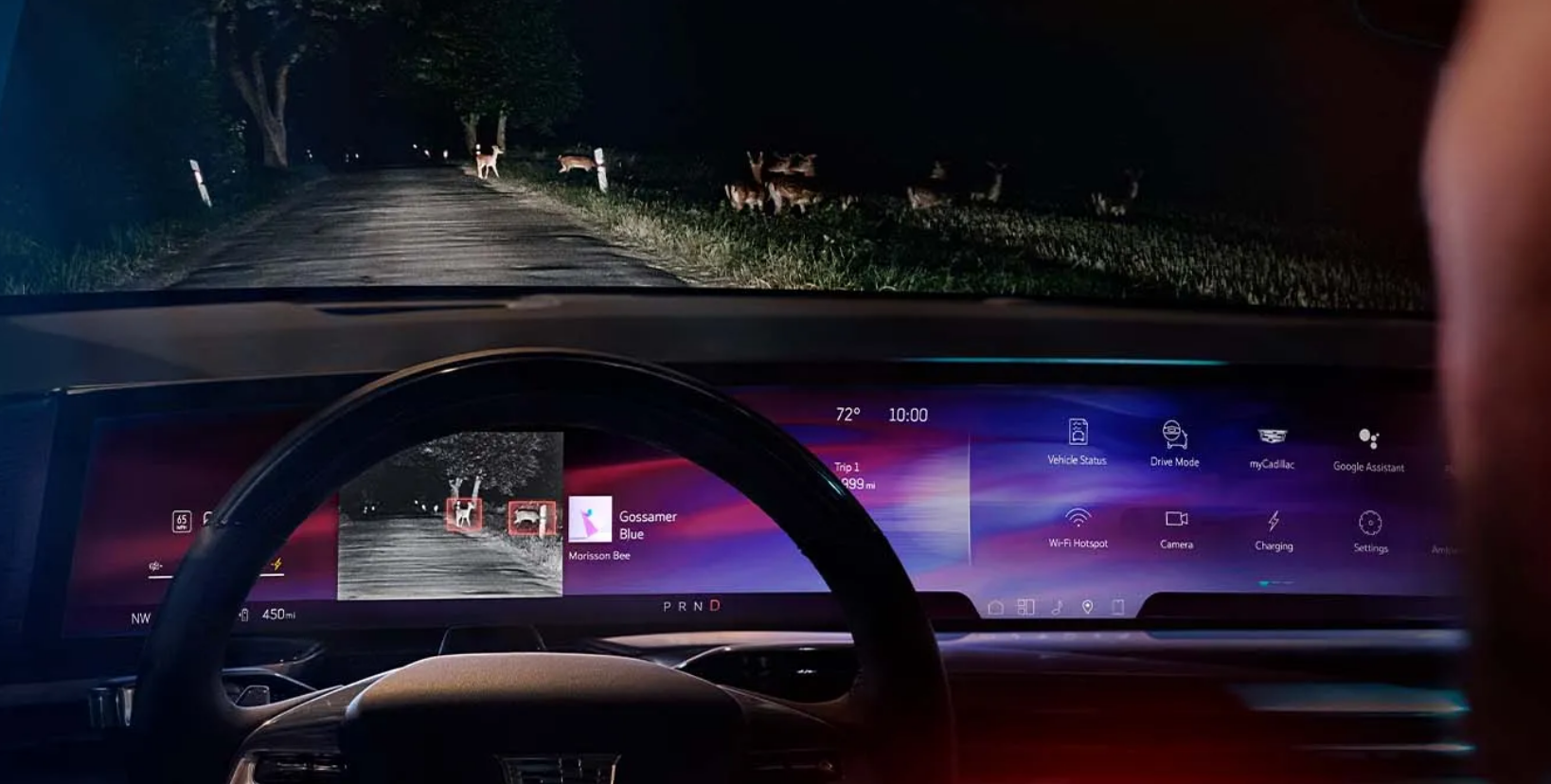 Screenshot 2023-08-09 at 22-58-34 Electric-Escalade-sensors.jpg (WEBP Image 1400 × 700 pixels) — Scaled (82%).png [ 1.22 MB | Vaadatud 23042 korda ]
The entire display is powered by Qualcomm Snapdragon and sits above a cantilevered center console that appears suspended in the air, offering space below for belongings or according to Damman, a cooler accessory to keep your kombucha cold (what do Escalade drivers drink?).
The rear seats feature HDMI connections, plus rear displays with access to the internet and streaming apps. The rear center touch screen gives passengers access to climate control and the ability to automatically open and close the doors (with child lock I assume!).
Optional add-ons include a 40-speaker AKG system delivering 360-degree sound throughout the cabin – that's six more speakers than the AKG system in the current premium Escalades. Take that!
In addition to 212 cubic feet of cargo volume in the interior, the electric ESCALADE IQ boasts a massive frunk etrunk – offering 12.2 cubic feet of additional cargo space. In my interview with Mandi Damman, she told me she thinks consumers will be most excited by etrunk, which can easily hold two golf bags or a large stroller.
I asked about the possibility of it doubling as a cooler, and she told me Cadillac designed a specific tray that can pull out with a rubber liner add on for groceries, cold drinks, etc. Combine that with the V2L add on and the 2025 ESCALADE IQ may be the new tailgate vehicle! Probably not, though…
Other features
There are several innovative features coming to the ESCALADE IQ in addition to V2H charging. We learned that vehicle-to-load (V2L) capabilities will also come available as an add-on option for future customers backed by GM's Ultify Software which will enable over-the-air (OTA) updates.
One of the cooler features showcased today is the electric ESCALADE IQ's independent front and rear suspension. This dual-motor system not only offers eAWD, but utilizes four wheel steering to turn on a dime. Mandi Damman shared that this feature enabled engineers to reduced the ESCALADE IQ's turning diameter by 6.5 feet to just 39.4 feet in all, during slow speeds.
GM President Mark Reuss said the electric Escalade's turn diameter is now shorter than some sedans. The technology also enhances stability and handling at high speeds when trailering for instance.
Standard four wheel steering also enables the all-electric ESCALADE IQ to perform "Arrival Mode," which is Cadillac's version of "Crab Walk" first showcased on the GMC Hummer EV. This mode allows the large SUV to drive diagonally at slow speeds to get in and out of tight spots. You can see it in action at around the (2:30) mark in the long form video at the bottom.
Alright, moving on. Another truly interesting feature present in this new Escalade is GM's Magnetic Ride Control 4.0, bolstered by an Adaptive Air Suspension. The system instantaneously adapts the suspension to adapt to uneven road surfaces to "isolate passengers from undesirable road conditions while providing precise steering and feel."
Electric Cadillac ESCALADE IQ specs and pricing
24-module Ultium battery pack
200 kWh of usable energy
Estimated range up to 450 miles (724 km)
Up to 750 estimated horsepower (in Velocity Max Mode)
Estimated torque up to 785 lb-ft (in Velocity Max Mode)
0-60 in under 5 seconds (in Velocity Max Mode)
800V DC fast charging
240V (7.7 kW) – Approx. 14.8 miles of range per hour of charge
240V (19.2 kW) – Approx. 37 miles of range per hour of charge
DCFC (Public) – Up to 100 miles of range per 10 minutes of charge
8,000 lb estimated towing capacity
Comes equipped with V2H, Super Cruise, 4 wheel steering standard
V2L available as an add-on
ESCALADE IQ will start at $130,000.